Frequently Asked Questions
---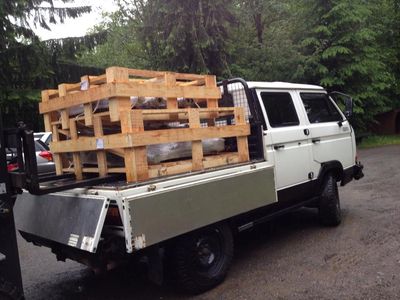 We use only German bearings, seals and synchro's in our rebuilds. All Vanagons receive the custom updated 3rd/4th slider hub to cure their most common failure and get re-bushed carrier housings and 1/2 relay lever in main case.
Turn-around time is generally 3 to 4 working days. May be longer in busy Spring & Summer times. (or if I am playing hooky or if it snows at Stevens pass) Have my son Matt helping these days, so thing go pretty quickly.
We suggest a name brand 75/90 Synthetic for stock Vanagons with stock 2.1L motors such as Valvoline, Royal Purple, Amsoil or Penzoil.
Use MTL for the Jetta style units for "normal" usage.
For higher power applications over 150 HP, a thicker weight racing type oil is highly recommended. Swepco 210 (80/140 wt) is the recommended choice (the Porsche boys love it.) 210 is better in colder applications than 201, but both will shift a bit stiffer when cold..
The high power SVX and TDi conversions will eat up your ring/pinions if your not careful...beware...We recommend Swepco 210 for the higher HP/Torque and heavy rigs and to change every 2 yrs max.
Vanagons with a non stock engine can get a taller .77-4th Gear to drop about 500 RPM or a .70 for the SVX or TDI engines ($350 extra) A taller 1.18 or 1.14-3rd gear that drops about 200 rpm($350)...call for details or other gear ratio info and availability. Other ratios available these days...A 1.09-3rd or a .73 or .75-4th
We have a mainshaft bearing retainer plate available to keep the mainshaft secure in its housing for higher powered motors as well. $150 extra.
Bolt Kits are available on 4 Cyl - 2.0 L transmissions.
Bell housings for the 020, 02A and 02J units are an extra charge if they have holes in them.
Syncro (or 2wd) mainshaft retainer plates are a good way to assure the mainshaft bearing will stay put down the road for higher powered vans...Always suggested for a TDI or 3.3 Subie and not a bad idea for a 2.5 either.